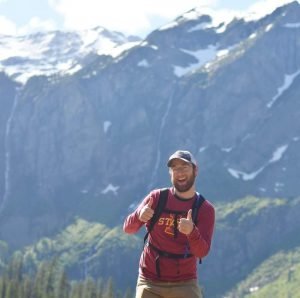 This month's VISTA spotlight is Caleb Kvale of Alpine Legal Services.
Where did you move to Colorado from? 
I moved to Colorado from Decorah, IA where I went to college at Luther College.
What is the background behind the organization you are serving with? (what their mission is and/or who they serve)
I am serving with Alpine Legal Services. The mission of ALS is to insure that all residents of Garfield, Pitkin, and Western Eagles
counties
 have access to legal services and have their
fundamental
 legal rights upheld.
What made you want to become a VISTA volunteer?
I was pretty unsure of what I wanted to do or where I wanted to go after school. Becoming a VISTA volunteer is a good way to build experience, make connections, and explore possible career paths while helping provide a valuable service to my community.
What were you doing before you became a VISTA volunteer? (Can be school and/or job related)
Before I became a VISTA I was finishing up my undergrad at Luther College where I majored in political science and spent last summer working as a camp counselor at Flathead Lutheran Bible Camp in Montana.
What are you looking forward to as a VISTA volunteer? 
I am looking forward to gaining a deeper understanding of how Alpine Legal Services is carrying out its mission and learning more about how the legal system operates. I am also looking forward to getting to know this community and seeing what kind of impact my work can have on it.
https://alpinelegalservices.org/