My name is Jaid and I am a Colorado native!
I have spent the last 6 years in Montana, spending much of that time working with volunteer organizations such as Key Club and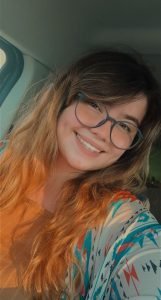 AIDSpirit USA. I enjoy road trips, spending time with family, and taking my two dogs to Starbucks for puppacinos! I am so excited for the opportunity to serve this community!
Jaid will be serving at LIFT-UP as their new Food Security Volunteer Programs Specialist. Her membership duties will include; Support recruitment, training, support and retention of volunteers to meet the organization's volunteer needs in coordination with the Volunteer Program Manager. Facilitate continuous quality improvement of the volunteer program for clients, staff and volunteers with a specific focus on diversity, equity and inclusion. Identify new and innovative strategies for leveraging volunteers to strengthen the organization's engagement with the community. Design and implement corporate and civic organization large group, short term volunteer programs.