About United Way
in America
In 1887, Denver, Colorado, was bursting at its britches as prospectors and speculators rushed in droves to the Rocky Mountains. Along with people seeking their fortunes came the usual social problems, problems related to masses of people disrupting the social norms and structure of an unprepared community. No single church or charitable society could handle the massive social issues of the day that were foisted upon a growing frontier town.
Enter a concerned Denver citizen, Frances Wisebart Jacobs, known as "the Mother of Charity."
She brought together two priests, two ministers and a rabbi who also recognized the need for cooperative action to address their city's welfare problems. Rev. Myron W. Reed, Rev. William J. O'Ryan, Rev. P.F. Carr, Dean H. Martyn Hart and Rabbi William S. Friedman joined together to plan the first united campaign for ten local health and welfare agencies.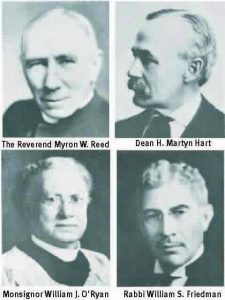 They created an organization that would serve as an agent to collect funds for local charities, as well as to coordinate relief services, to counsel and refer clients to cooperating agencies, and to make emergency assistance grants in cases that could not be referred.
That year, Denver raised an astonishing $21,700 and created a movement that would spread throughout the country, eventually to become the United Way. More than 125 years later and throughout the country, United Way still is focused on mobilizing the caring power of communities and, in turn, making a difference in people's lives.
Today, United Way is a national network of more than 1,300 locally governed organizations that work to create lasting, positive change in communities and in people's lives. Building on more than a century of service as the nation's pre-eminent community-based fundraiser, United Way engages the community to identify the underlying causes of the most significant local issues. It develops strategies, it marshals the financial and human resources to address them, and then it measures the results.
The United Way of America is the national organization dedicated to leading the United Way movement.